FCRR Aims to Train Next Generation of Reading Disabilities and Dyslexia Researchers
TALLAHASSEE, Fla.— Florida Center for Reading Research (FCRR) Associate Director Dr. Nicole Patton Terry has received a $1.1 million, five-year grant to prepare the next generation of reading disabilities and dyslexia (RDD) researchers. Terry, alongside co-principal investigators Drs. Laura Stacey and Sonia Cabell (School of Teacher Education) and Don Compton (Psychology), will train five doctoral scholars to be experts in RDD and stewards of the field of reading research. As future faculty in universities, these scholars will promote positive outcomes for learners with RDD by preparing effective teachers, conducting rigorous research, disseminating research evidence to diverse stakeholder groups, and providing service to the field locally and nationally.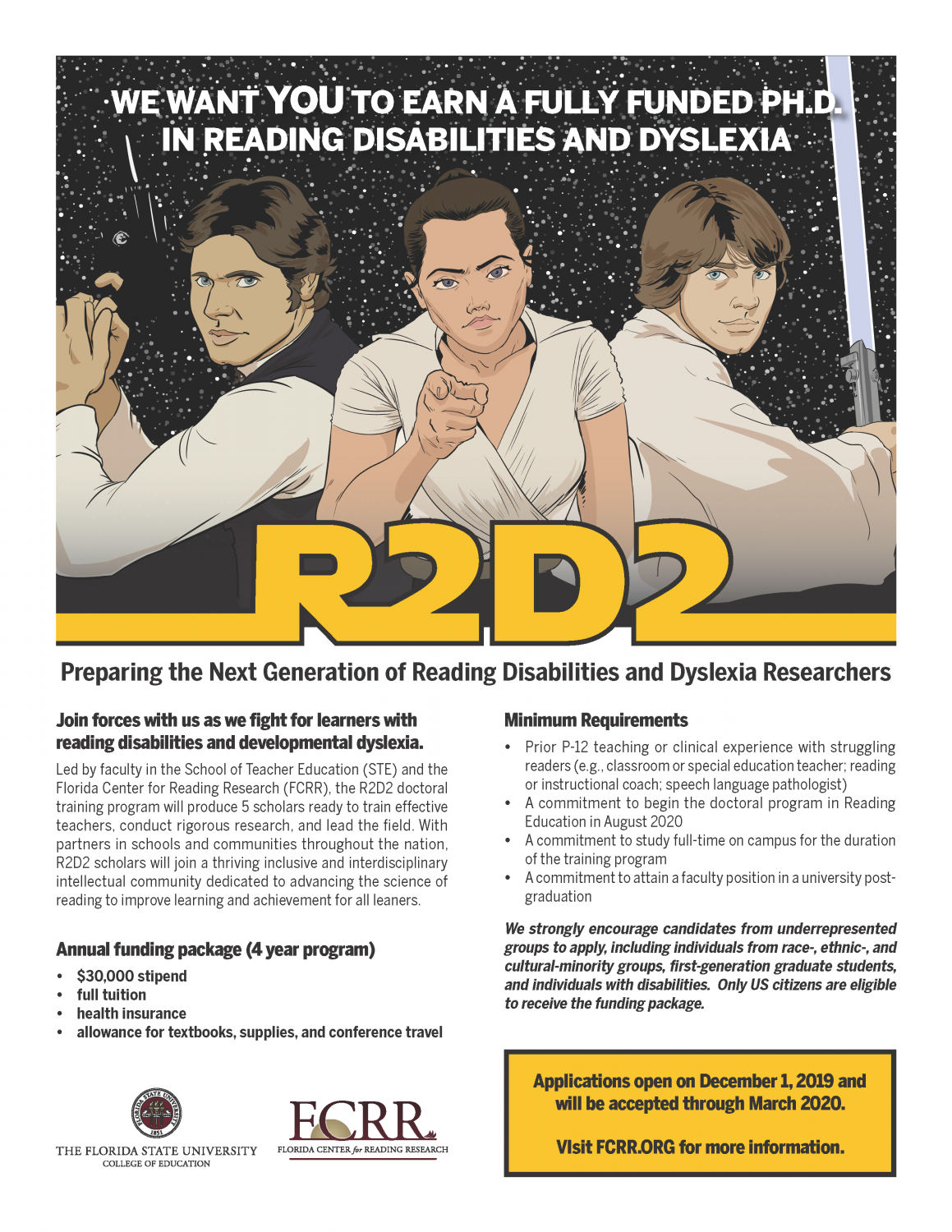 "There has been a sharp increase in the number of states seeking to reform education for students with dyslexia by passing dyslexia specific statutes;" states Terry, "however, these legislative considerations have out-paced the dyslexia expertise found among most school personnel, graduating preservice teachers, and even faculty in the university."
Through coursework and shared mentorship and apprenticeship opportunities, selected scholars will gain interdisciplinary knowledge, teaching and leadership competencies required to be successful university faculty.
"We're looking for students who have prior P-12 teaching, clinical, and/or leadership experience with students with RDD or other learning difficulties." says Terry. "We also want to encourage candidates from groups typically underrepresented in academia to apply, including individuals from race- and cultural-minority groups, first-generation graduate students, and individuals with disabilities."
In addition to obtaining a Ph.D. in Curriculum and Instruction with expertise in Reading Education and RDD, the selected students will gain a Graduate Certificate in Dyslexia from the University of Florida, receive full tuition, a competitive $30,000 stipend, health insurance, and funding allowances for travel to professional conferences and to purchase course-related textbooks and supplies. Potential applicants are encouraged to contact Sonia Cabell at scabell@fcrr.org or Nicole Patton Terry at npattonterry@fsu.edu for more information.
The Florida Center for Reading Research is a multidisciplinary research center at Florida State University that explores all aspects of reading research — basic research into literacy-related skills for typically developing readers and those who struggle, studies of effective prevention and intervention, and psychometric work on formative assessment. For more information, please contact Nathan Archer at narcher@fcrr.org.