New Faculty Award: Community Engaged Research Partnership Award
We are pleased to announce the Community Engaged Research Partnership Award! The award program is intended to both recognize and support mid-career and senior faculty at FSU who are committed to collaborating with community partners to produce research that is rigorous, relevant, and impactful. Applicants with a research focus and interest in creating and sustaining collaborative research-focused partnerships are strongly encouraged to apply.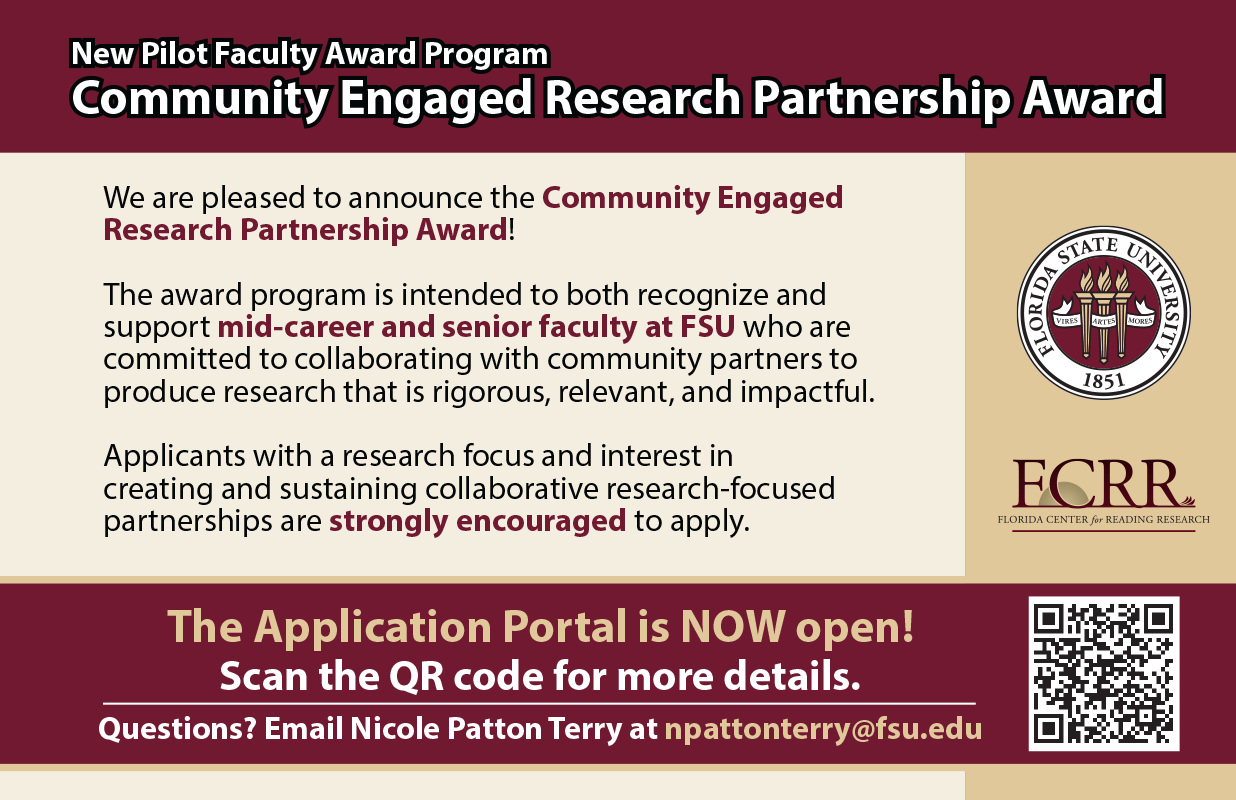 This is a pilot faculty award program, made possible as a part of the Institutional Challenge Grant program awarded to the Florida Center for Reading Research (FCRR) by the William T. Grant Foundation, Doris Duke Foundation, and Spencer Foundation. During the pilot phase, we welcome applications to support research partnerships with public agencies and nonprofit organizations to address disparities in youth outcomes. Program continuation is contingent upon available funding and program success.
The Application Portal is NOW open. Up to four faculty will be awarded during the 2023-2024 academic year. We are accepting application packages for one deadline: December 15, 2023. Application reviews will begin in January 2024 and award notifications will be made in April of 2024. Awardees are expected to complete their projects between July 1, 2024 – June 30, 2025. For more information regarding the application process, please refer to the Request for Proposals. Prior to initiating your application, we recommend thoroughly reviewing the application questions and reviewer criteria.
More information about the award can be found at https://fcrr.org/projects/william-t-grant-foundation-institutional-challenge-grant. Questions about the program can be directed to the Principal Investigator, Nicole Patton Terry at npattonterry@fsu.edu.