Florida Center for Reading Research to Host Visiting Fulbright Scholar
Dr. Jennifer O'Sullivan, a lecturer in literacy at the Marino Institute of Education–an associated college of Trinity College Dublin–and the past president of the Literacy Association of Ireland, has received a prestigious Fulbright Irish Scholar Award that has allowed her to travel to the United States to conduct professional research at the Florida Center for Reading Research (FCRR) for a period of three months.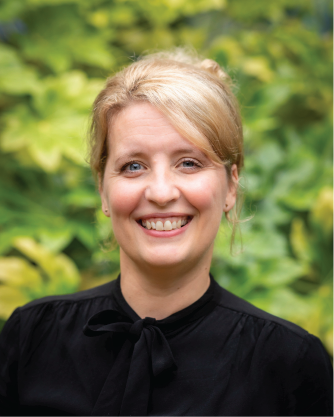 Dr. O'Sullivan completed a master's in education focused on literacy at the Dublin City University–St Patrick's College in 2008 and was awarded a PhD in education from Trinity College Dublin in 2019. Her doctoral studies focused on the effectiveness of a phonological awareness program on elementary students from socioeconomic disadvantage backgrounds. O'Sullivan has co-authored phonics programs including, A Sound Beginning for Reading, a comprehensive phonological awareness program that covers the developmental stages of phonological awareness to help students develop vital skills to support their future reading achievement.
As a Fulbright scholar at FCRR, O'Sullivan will research a phonemic awareness screening and monitoring tool for beginning readers that incorporates children's speech recognition technology. She hopes the research will be used to increase early literacy student outcomes in her native Ireland. "Under the Fulbright programme, my time here at the FCRR, and FSU more widely, will greatly benefit young readers in Irish classrooms, as it is hoped the research will allow for the identification of children at risk of future reading difficulties," said O'Sullivan. "I am very grateful for this opportunity and want to thank all of the team at the FCRR for welcoming me with open arms. I look forward to the shared knowledge this collaboration brings on a personal, professional and cultural level," continued O'Sullivan FCRR Associate Director Dr. Yaacov Petscher and FCRR affiliated faculty, Dr. Hugh Catts will host O'Sullivan as she collaborates with faculty across Florida State University. O'Sullivan will consult with faculty related to the development of her screening and progress monitor tool. She will also participate in projects related to early literacy screening being carried out by Petscher and Catts in cooperation with researchers at Harvard and MIT and funded by the Chan Zuckerberg Initiative.
The Fulbright U.S. Student Program was established in 1946 by Senator J. William Fulbright who represented Arkansas in the United States Senate from 1945 until his resignation in 1974. The program awards about 1,800 grants annually. Grants are awarded to U.S. students, foreign students, U.S. scholars, visiting scholars, teachers, and professionals who study, research, or teach abroad for about a year. The Fulbright Program operates in more than 140 countries, covering more than 100 different fields of study. Since its inception, the global Fulbright Program has awarded more than 390,000 people worldwide the opportunity to exchange ideas and find solutions to international issues.
O'Sullivan's Fulbright scholarship was awarded by the Fulbright Commission in Ireland, which supports passionate professionals, students, researchers, scholars, and artists from all disciplines to travel to the U.S. and study or work with top institutions. Fulbright awardees receive funding, visa administration and introduction to a vast international professional and academic network.
Learn more at https://www.mie.ie/en/about_us/staff_directory/jennifer_o_sullivan.html.