FCRR Faculty Attends First Nigerian Centre for Reading Research and Development Conference
TALLAHASSEE, Fla.—This past August, Florida Center for Reading Research (FCRR) Associate Director Dr. Nicole Patton Terry delivered the keynote presentation at the inaugural National Reading Conference at Bayero University, Kano (BUK). The conference was a capstone event for the new Nigeria Centre for Reading Research and Development (NCRRD), created to strengthen the country's ability to provide high-quality education and improve children's reading skills.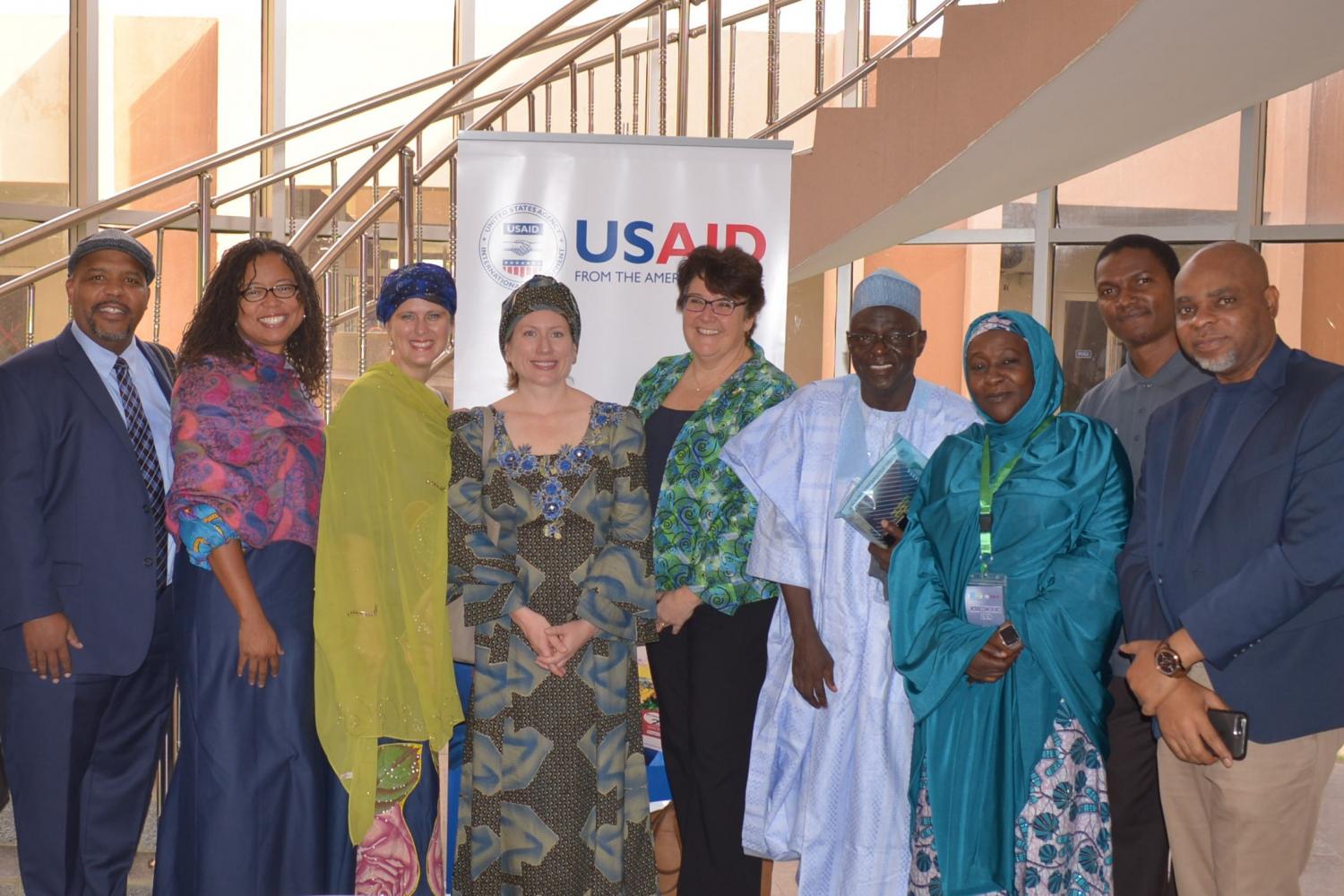 Pictured from left: Jarrett Terry, FSU; Nicole Patton Terry, FCRR/FSU; Adrienne Barnes, LSI/FSU; Stephanie Zuilkowski, LSI/FSU; Denise O'Toole, USAID Education Office Director; Ismaila Tsiga, Director of NCRRD; Talatu Musa Garba, Associate Director of NCRRD; Nura Ibrahim, USAID Nigeria; Owale Samuel, USAID Nigeria
Recognizing the unique opportunities and challenges that teachers and families encounter as they help children learn to read, the conference focused on creating conditions to provide high-quality early grade reading instruction in kindergarten through 3rd grade. In addition to evidence-informed instruction, speakers also discussed multi-lingual and multi-dialectal instruction, curricula, assessment, children's books and literature, family engagement, and educational policy in Nigeria. With over 800 attendees and representation from every state in Nigeria, the conference was considered highly successful.
"I really tried to emphasize that the conditions that create vulnerability for young children can make the task of learning to read even more difficult, so we have to focus on instruction and on many other contextual factors to help children gain language and literacy skills," stated Dr. Patton Terry. " I also wanted them to know that we share many of the same challenges to educating vulnerable children in the US and that our research has helped to inform how we can best support children despite these challenges."
The faculty involved are producing rigorous research on topics that are of direct relevance to practitioners and policymakers in Nigeria.

Dr. Stephanie Zuilkowski
Funded by the U.S. Agency for International Development (USAID), the Centre was formed through collaboration between Learning Systems Institute (LSI) at Florida State University and BUK. Principal investigator and associate professor of international education Dr. Stephanie Zuilkowski leads the project, currently in its third year. FCRR Associate Director Dr. Yaacov Petscher and researcher Dr. Laura Steacy lend additional expertise in reading and methodology.
Nigeria's multi-lingual context presents unique challenges for the country. Children grow up speaking one of dozens of mother tongues, but learn to read in English when they enter school. English is the language of instruction from upper elementary through university education, and the primary language of business and government in the country. Insufficient resources and appropriate educational materials, as well as a limited number of teachers, impact the quality of Nigeria's literacy education. The Centre aims to change that by becoming a regional center for excellence that trains teachers, conducts research, and informs policy.
"LSI is proud to partner with BUK on the creation of the NCRRD," said Dr. Zuilkowski. "It's exciting to see the interest building in the Centre, nationally and regionally. The faculty involved are producing rigorous research on topics that are of direct relevance to practitioners and policymakers in Nigeria."
Dr. Patton Terry added, "I appreciate that we're not so different. We're all working towards the same end and it's gratifying to learn from them just as much as it is for them to learn from us."
The Florida Center for Reading Research is a multidisciplinary research center at Florida State University that explores all aspects of reading research — basic research into literacy-related skills for typically developing readers and those who struggle, studies of effective prevention and intervention, and psychometric work on formative assessment. For more information, please contact Nathan Archer at narcher@fcrr.org.