FCRR Announces Three-Year Partnership with Leon County Schools
TALLAHASSEE, Fla.— The Florida Center for Reading Research (FCRR) is proud to announce READ UP, a new research-practice partnership with Leon County Schools (LCS) to develop and enact a shared research agenda to improve reading achievement and student success.

Reading achievement is crucial for educational attainment, which in turn is significant for economic prosperity, equitable opportunity, health and well-being, and overall quality of life for individuals and their communities. While much is known about reading development and evidence-based instruction, less is known about how to create conditions inside and outside of schools to sustain reading success for all learners.
Co-led by Gillian Gregory, Assistant Superintendent of Academic Services at LCS and Dr. Nicole Patton Terry, the Olive & Manuel Bordas Professor of Education in the School of Teacher Education and Associate Director of FCRR at Florida State University, the partnership will leverage the unique talent and resources of the university along with a diverse array of providers and partners to create an ecosystem of school success.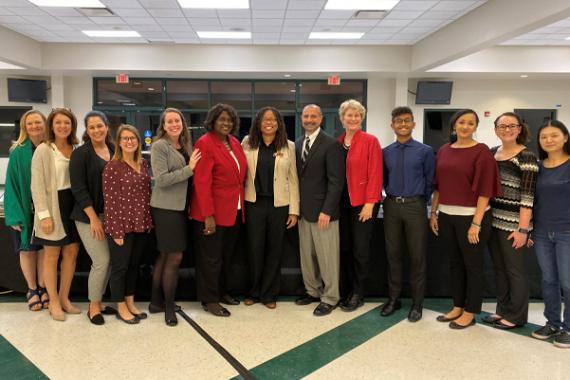 "Leon County Schools looks forward to leveraging the resources of our local community–and specifically the Florida Center for Reading Research– to strengthen student achievement," stated Gregory. "Reading is the fundamental skill by which all other content such as math, science, and social studies is accessed. We are proud of this partnership."
"Education is and has always been a civil rights issue in this country. Reading is foundational to that right. So, we're focusing on reading to create a district where all students have equitable access to that right, in every classroom, in every school, and in every neighborhood," added Patton Terry.
Over the course of a year-long learning journey to understand the needs and priorities of the school district and the local community, three main areas of focus were identified: early learning, exceptional student education, and instruction. Together, teachers, leaders, researchers, faculty, staff, and community partners in LCS, FCRR, FSU, and throughout Tallahassee will begin research and engagement activities in 2020 to innovate around these areas. Ultimately, the shared goal is to develop actionable plans for practice, programs, and policy that are grounded in the best available evidence for what supports reading achievement and school success.
Patton Terry continued, "We are dedicated to conducting rigorous and relevant research, to increasing the awareness and use of that research, and to engaging the university and community around that research to support LCS. We believe that we will see improved reading achievement for all students. That's the goal."
The Florida Center for Reading Research is a multidisciplinary research center at Florida State University that explores all aspects of reading research — basic research into literacy-related skills for typically developing readers and those who struggle, studies of effective prevention and intervention, and psychometric work on formative assessment. For more information, please contact Nathan Archer at narcher@fcrr.org.