Early Literacy Book Nook Bundles Now Available Through LeRoy Collins Leon County Public Library System
Parents and children visiting the LeRoy Collins Leon County Public Library System will find new resources awaiting them thanks to Book Nook Bundles provided by the Florida Center for Reading Research (FCRR). The Bundles contain a story book, a story book guide, and a relevant and engaging activity that supports early reading.
"We are proud to partner with the Florida Center for Reading Research to make Book Nook Bundles available to our youngest readers at all Leon County Public Library locations," said Leon County Commission Chairman Nick Maddox. "By utilizing the many literacy resources available for free through the County's Library System, caregivers can help their children develop essential literacy skills to build a brighter future."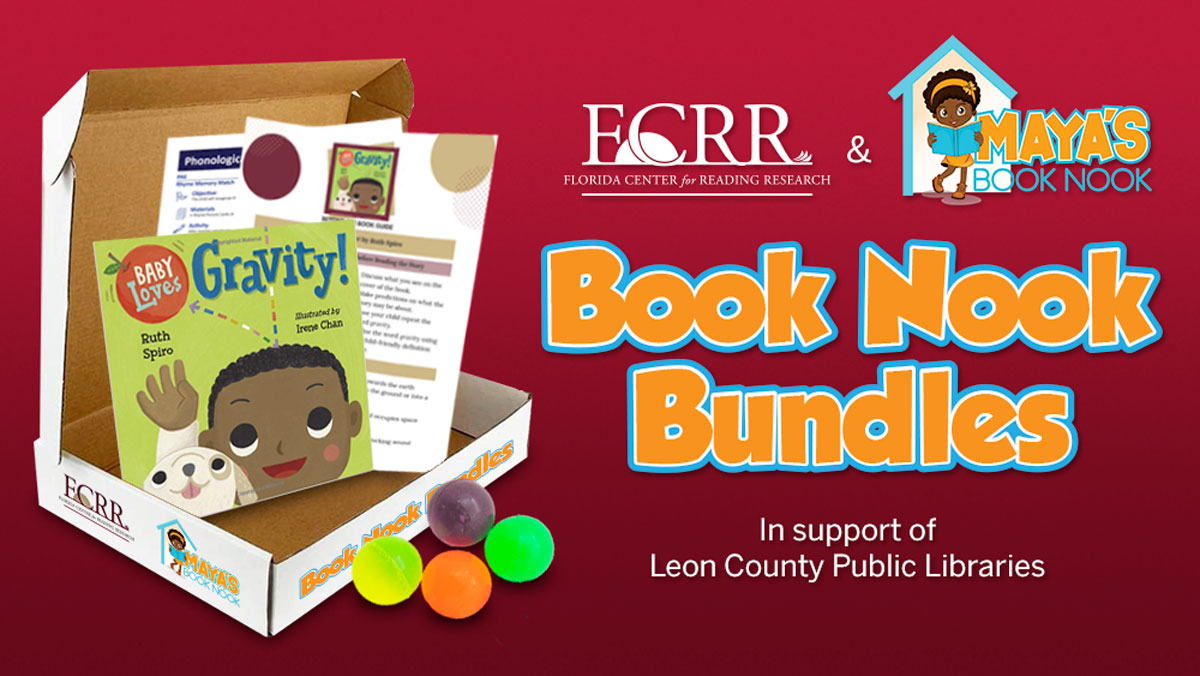 Book Nook Bundles can be reserved online using your library card and picked up at any of the seven Leon County Public Library branches. To apply for a new or replacement library card online, visit LeonCountyLibrary.org/LibraryCard.
"The County is proud of our partnership with FCRR to bring story books and engaging activities right to the homes of our County families," said Leon County Administrator Vincent S. Long. "The Bundles provide an innovative and creative opportunity for families to build literacy skills together."
The project brings together the work of FCRR and Maya's Book Nook. Founded by FCRR researcher and Communication Science and Disorders faculty member Dr. Lakeisha Johnson, Maya's Book Nook is a popular blog designed to promote language and literacy skills through diverse children's literature.
"Libraries are one of the few places where books and media are available to all for free," stated Johnson. "While we know access to books is critical for children, it is even more important to foster conversations around the books as they are being read. Our Book Nook Bundles provide families, caregivers, and even educators with a blueprint for engaging in rich conversations and research-based extension activities that support language and literacy development for children between birth and 8 years old."
The project was supported with funds from Florida State University's Great Give, an annual 24-hour giving campaign designed to sponsor specific goals. With over $7,000 raised, the team at FCRR was able to produce 175 Bundles.
"FSU's Great Give provided the perfect platform for FCRR to bring these resources to the community," said Nathan Archer, director of FCRR's Innovative Research Dissemination unit. "We were beyond excited when the project was successfully funded, knowing children throughout the county would be able to benefit from the generosity of our supporters."